Jugal Vaitha
Dentist
GDC No.228347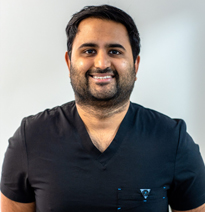 Jay joined us in 2021. He has experience working across both private and NHS dentistry and shares a keen interest in both general and cosmetic dentistry.
He has successfully completed a year long postgraduate Aesthetics course and is also certified to provide Smilelign, a clear brace system to straighten teeth.
Jay has a gentle approach with his patients and is passionate about providing high quality dental care.
In his spare time, Jugal enjoys playing football, golf, and squash and has a passion for travelling. He has also recently become a dad!