Maria Salinas
Dental Hygienist
GDC No.279703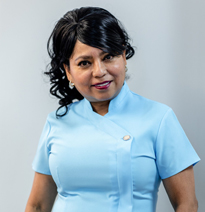 Maria joined our team in 2021 as our hygienists. She is very enthusiastic and passionate, and believes every patient and their needs are different.
Maria is known for her fun nature and gentle approach which helps put patients at ease so that they feel as comfortable as possible when having their hygiene treatment.
She has very quickly become a huge hit with our patients!